Warning about
Fuelgram

Instagram Powerlikes that will get your account

banned for life
Server Issues: We are getting DDOS attacked since we released this article. Looks like Fuelgram don't like the truth. They are banning users who have lost their accounts on their Telegram channel to.
Click here: Have you lost your account? Voice your opinions on the Fuelgram Telegram channel. They keep muting & blocking customers who have lost their accounts.
Fuelgram Lied to their customers & some customers were banned for life on Instagram
Our original review of Fuelgram was that they are the leaders in Instagram growth, however the last year they failed to update their service and exposed all of their customers. Every customer of Fuelgram is at risk right of getting their Instagram account banned. So if you use Fuelgram, cancel your services & change your password ASAP. Since the big update in June 2019, you will lose your account if you continue using Fuelgram Instagram likes.
Disclosure: We have 5 personal accounts running tests with Fuelgram and we always reach out to their community on Telegram for more knowledge. We are not affiliated with Instagram, Telegram & Fuelgram.
Sign our online petition if you were affected by Fuelgram
1000's of accounts have been put at risk because Fuelgram failed to adapt their outdated system. They could have easily added extra features to protect their customers.
Sign our petition to voice that you were hit by Fuelgram poor choices and lost your account.
Fuelgram Live Ended
I've stopped using Fuelgram

72% 6.1k / 8.5k

My account was banned because of Fuelgram

29% 2.5k / 8.5k
Why are you writing this article?
1000's of Fuelgram customers are being silenced over accounts being banned or like blocked from Instagram. They are still operating as nothing is wrong. Until they have updated their system, I think this should be public information to protect customers from losing their Instagram account.
So what has actually happened with Fuelgram?
A long story short, Fuelgram used to reign supreme. I used to love Fuelgram, they had an amazing community. However once Instagram was on their radar in 2017, they started the war on boosted likes services. Instagram is not stupid and they read data and every few months released more and more updates to combat automated botted like services like Fuelgram. Right now your account is in danger if you are using Fuelgram.
Why is it dangerous to use Fuelgram? Fuelgram is abusing your account
NO! We have 5 accounts with Fuelgram all in different Fuelgroups. We have lost 4 of the 5 accounts totally. We are disputing with Instagram to recover these accounts and the response is not good.
The main reason is how Fuelgram use your account automatically. You may only receive 250 likes for 3 posts a day for $9.99 per month. This sounds like a great deal, but its how Fuelgram uses your account is the damaging part. We have looked at the 'Posts You've Liked' data with our last account (that didn't get banned) and we are shocked.
We were automating likes from our account to Fuelgram customer accounts. The likes that my account was automating was around 150-200 likes per hour. Plus my account didn't sleep, it was liking 24 hours a day from the same Fuelgram proxy. That means I was supplying 3,600 to 4,800 likes a day to their customers. When I was only receiving around 750 likes per day (250 likes per post, 3 times a day).
If you are using Fuelgram, please look at the data for yourself. To see the information open the Instagram app > 3 lines > Settings > Account > Post You've Likes
Please comment below with your results with our petition.
So in short, your Instagram account is running 24 hours a day from the same proxy IP (which is shared by other Fuelgrtam Instagram accounts). No wonder Instagram could detect Fuelgram customers.
Did you get the Instagram warning?
We received a popup from Instagram with all of our accounts that said "We're Removing Inauthentic Likes and Follows". It also states "You may have shared your username and password with an app that offers followers or like. We're removing activity from these apps, such as new followers, because they violate our Community Guidelines. Please change your password to prevent your account from being disabled." Then you are presented with a 'Change Password' button.
We urge you to change your password ASAP! Instagram know that you are using automated services on Fuelgram or Telegram. If you continue with the services, your account will get banned.
Lies about network size & misleading customers
If you check the Fuelgroups on Fuelgram, you can see the list of all groups.
Before the June update, the Fuelgroups members was in the 1000's for each group. No one questioned their networks. Now that the Instagram purge has happened, we can see what Fuelgram has done to mislead you.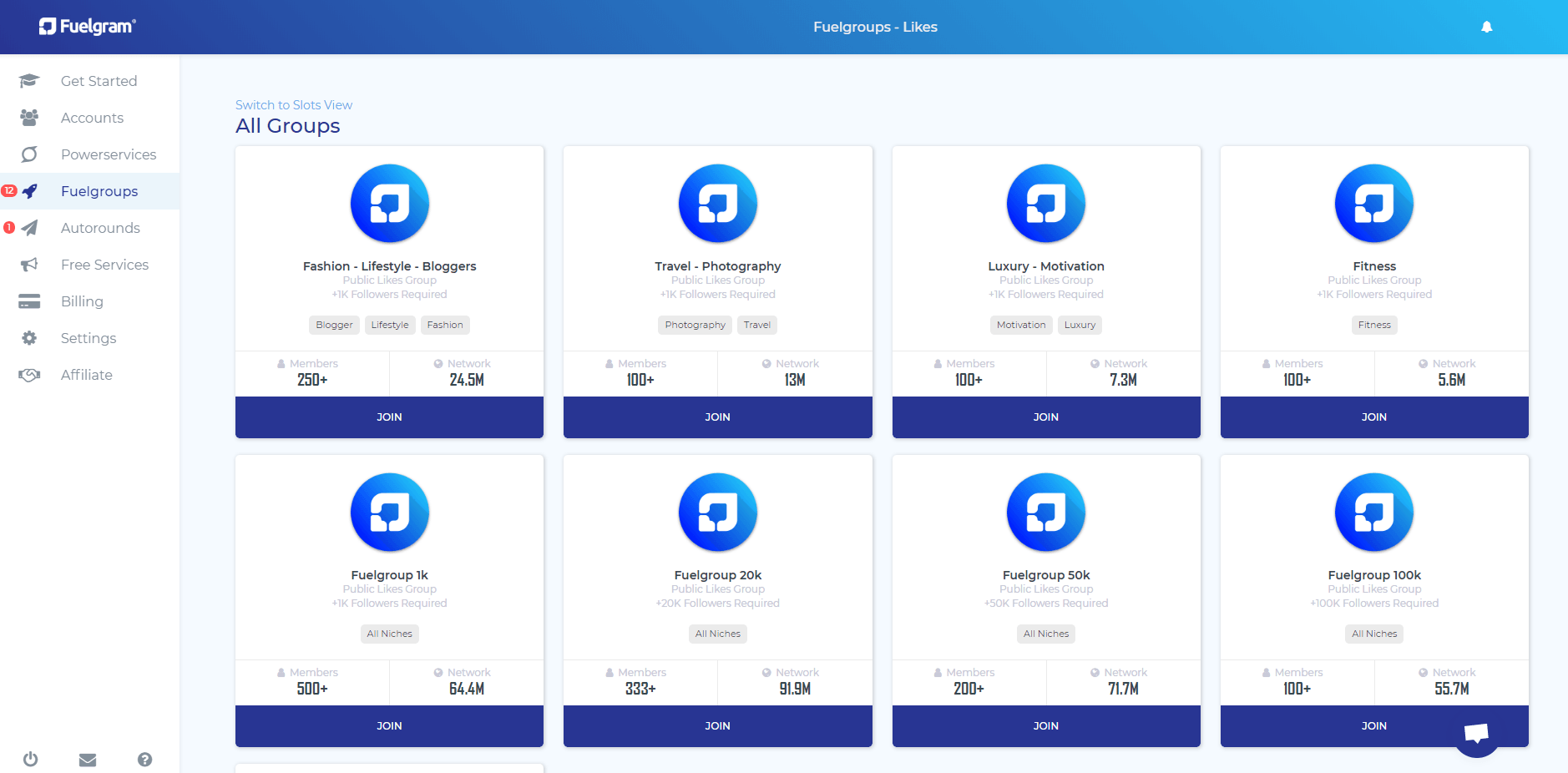 Let's do the math
Fuelgroups 1k
– This group is the starter group that will help Instagram accounts from 1000 to 19,999 followers.
500+ members with a network os 64,400,000 followers in total.
64,400,000 divided by 500 members = On average every user in the group has 128k followers each.
– Let's imagine that they had 5000 members in the same group
64,400,000 divided by 5000 members = On average every user in the group would have 12,880 followers each.
Remember this group is for 1k to 19,999 followers only. This is an example of fake network sizes.
Let's be realistic… if every account on this Fuelgroup had 19,999 followers each. The network size would be 10m. This is the top end number.
Fuelgroups 20k
– This group is the mid-tier group that will help Instagram accounts from 20,000 to 49,999 followers.
333+ members with a network os 91,900,000 followers in total.
91,900,000 divided by 333 members = On average every user in the group has 275k followers each.
Remember this group is for 20k to 49,999 followers only. Another lie about their network size.
What to learn from this?
Don't believe the network sizes that Fuelgram say, it's clearly fake to get you on their network.
How can you protect your Instagram account?
After the loss of 4 of my 5 personal Instagram accounts on Fuelgram. I quickly changed the password of my account. If you are still paying, then stop and change your password ASAP.
Once you have changed your password, Fuelgram can still access your account with a cookie stored on their server. You will need to log out of all devices to 100% secure your account.
To log out of every device login to Instagram > 3 lines (top right) > Settings > Security > Login Activity > Click the … of the areas and log out.
Did you get your account banned?
You may be able to save your Instagram account. The chances of recovery if you are a business are higher than a standard account. Click this link to start the process: https://help.instagram.com/contact/1652567838289083 or https://www.facebook.com/help/instagram/contact/1652567838289083
Best of luck!
Help! I need Powerlikes… Who else offers Instagram powerlike services
If a company asks for your Instagram password, do NOT use that company for powerlikes. We have in-depth reviews regarding other suppliers.
| # | NAME | RATING | PRICE | SUPPLIER STATS | WEBSITE |
| --- | --- | --- | --- | --- | --- |
| 1 | GOSO.io Instagram PowerLikes | Read Full Review | From €35 Per Month | Latest Algorithm Friendly | WEBSITE |
| 2 | Your Charisma Instagram Powerlikes | Read Full Review | From $50 Per Month | Latest Algorithm Friendly | WEBSITE |
| 3 | Ampfluence Instagram Likes | Read Full Review | From $129 per month | Latest Algorithm Friendly | WEBSITE |
| 4 | Combin Powerlikes & Instagram Marketing | Read Full Review | From €18.15 per month | Latest Algorithm Friendly | WEBSITE |
| 5 | WaverlySocial.com Instagram Powerlikes | Read Full Review | From $30 Per Month | Latest Algorithm Friendly | WEBSITE |
| 6 | BoostUpSocial Instagram Powerlikes | Read Full Review | From $225 Per Month | Latest Algorithm Friendly | WEBSITE |
| 7 | Ins-Grow.com Instagram Powerlikes | Read Full Review | From $4.99 Per Post | Latest Algorithm Friendly | WEBSITE |
| 8 | WeLovesMedia.com (Previously The Socialite Media) Instagram Powerlikes | Read Full Review | From $20 Per Week | Latest Algorithm Friendly | WEBSITE |
| 9 | Fuelgram Powerlikes Review & Community ratings for Instagram | Read Full Review | From €12.50 Per Month | Latest Algorithm Friendly | WEBSITE |
| 10 | likesocial.co Instagram Powerlikes | Read Full Review | From $10 Per Month | Latest Algorithm Friendly | WEBSITE |